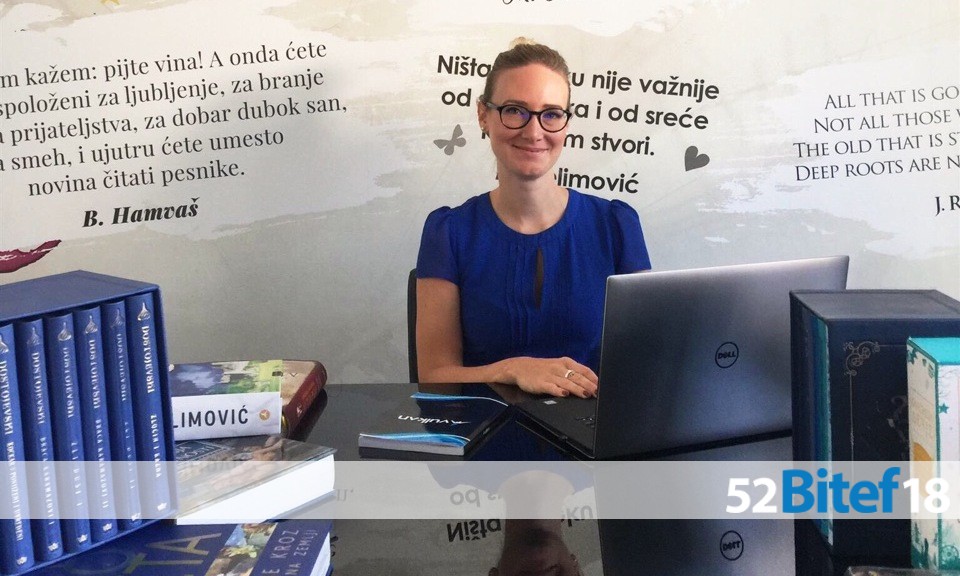 Vulkan is the biggest publishing house in the region. What would you single out as the biggest business challenges since the foundation in 2013, until today?
Vulkan publishing was created through the merging of two publishers who had existed on our publishing scene for decades. Both Alnari and Mono & Manjana spent a long period building their image, reputation, and drawing their audience, creating a specific and recognizable production, which is why we, after that fusion, faced the challenge of turning those two separate identities into a new unique, volcanic one, while keeping all the good things created through the previous hard work. Both those houses had a very serious and developed productions but, luckily, differentiated and different: Alnari mostly published contemporary novels and popular science for adults, while Mono & Manjana was known as the publisher of rare and unusual books, encyclopedias, and children's books. The combination led to a coherent plan which could cover the widest reading audience. The only challenge was to introduce the new brand. It is clear, of course, that this "only" asked for a lot of effort. Like any other transition, this one was not easy either, but I believe that we have managed, thanks to the dedication of our entire team, to carry it out successfully and rather quickly. Already in the first year, we received numerous recognitions, among which are the most relevant awards in our country (NIN award, "Meša Selimović" award, "Vital" award, etc.), and the award we are particularly fond of, the traditional Journalists' Award at the Belgrade Book Fair for the best publisher. The most important thing, however, is the reaction of our readers who lent us their undivided support right from the start, and the number of those who visit our section at the Book Fair every year proves that our title of the best publisher is fully deserved.
As the executive editor, what are you most proud of?
Ever since the beginning, Vulkan has for me been a huge challenge: I see it as a living organism who needs to grow and develop, because stopping would mean degradation. The size and the reputation of the house dictates the size of the production expected by the audience, and that is at the same time an advantage but also a responsibility. With over 2000 titles and about 400 new editions, the organization of the production has to be impeccable. We define our publishing plan annually, but the international publishing scene is very dynamic, novelties appear all the time, and we are trying to bring them to our readers as soon as possible, as well as to respond to their desires, so we keep adjusting the plan to the demand. Only like that can we remain up to date, and true to our values. All that continual balancing must never lull you, it must never let you rely on earlier success - you can lose the race with time in an instant and become obsolete. Therefore, each year is a marathon, and I am proud of each Vulkan's edition - from picture books to encyclopedia - and ofall the people in our team who work with undivided enthusiasm, dedication and desire for personal and general improvement.
Vulkan is identified with the slogan "more than just a book". Why that slogan and what does it mean personally to you?
That slogan is probably the best and the most concise illustration of Vulkan's vision. Literature has always been a unique reflection of its time, and publishing, as a bridge between the author and the reader, cannot be seen separately from the reality in which it exists and from the audience it addresses. These are the times of huge and rapid changes in all the spheres of society, mostly because of the hyper-intensive technological development and the altered life dynamics, and the world of publishing is not spared from that. Electronic revolution brought by the new millennium has probably caused the biggest change in this filed, ever since its beginnings. The euphoria has, as expected, spread first through economically most developed societies, which is why e-books first appeared in the Western Europe and in America. We have just felt an echo of all those events, and the time will tell if it should be seen as a positive or negative development. In any case, e-publications have led to a global change in the readers' perception: they have caused a certain form of, as it is usually called, "democratization" of publishing, where by the means of the so-called "self-publishing", almost every author can offer his book to the widest audience. That phenomenon has made publishers listen to the readers' demand more carefully, because otherwise they would become redundant; what is the point of publishing editions which have no audience? How to find an appropriate form which could convey a content? We have found the answer mostly in the eclectic approach: our diverse production, marked by the range of editions and genres, represents a response to various reading tastes. The combination of different elements can be seen even within each edition: classical works are adorned in film attire which appeals to younger generations, the covers of Shakespeare's works have minimalistic design, while children's editions consist of a collage of educational, entertaining, and interactive elements. Contemporary reader is demanding, hungry for new knowledge, eager to combine various experiences. Interdisciplinarity has become more prominent in publishing, not only in theatre. In order to survive, literature can and must transcend only one media, it cannot be limited by it, and the publisher is the one who has to recognize the appropriate way to breathe life into it - that is why publishing is more than just a book.
When, in 2014, you received the prize for the publisher of the year, Tanja Nježić, a Blic journalist, stated that, all things considered, Vulkan's approach in our publishing scene is the closest to what Umberto Eco wrote - that "books deal with the reality of the illusions". How do you understand this quote?
Eco is one of the rare literary authors who not only nourished his storytelling but analyzed it as well: he was deeply fascinated by language, literary process, and writer's inspiration. He was able to say a lot with very few words, which is what only true masters can do, and mastery, as Kipling said, is the basis of every grand art. Man could not survive without art, art makes the most remote corners of our soul more accessible, it lets us explore our fears, face our transience, and overcome it though creative work. Imagination and illusion get us closer to our most intimate desires, they let us create a fictional world which will give us a safe space to explore the reality in which we have to live. That keeps pushing us forward. Through our creation art finds the way to move forward and reveal new spheres of existence. And that is exactly how I see books and literature: comfort zone is the safest place, walled up by traditional literary values and thus isolated from the contemporary events. But we had better think what it is that we can expect if we stay deaf to the demands of the time, and if we persist with old, rather used up patterns. In order to survive, literature must grow and evolve, it has to change and offer new forms. That is a universal trend and we are not an exception. The borders are moving, new literary forms are being born, and in these explorations, we are often alone in an unknown territory. It is not always easy but we see it as our duty to try and satisfy the readers' desires. Do our efforts always result in high literary value? Maybe not. But in spite of their possible irrelevance, those editions still are valuable, at least as the reflection of the society in which they are created. So, we should not neglect any demands, but see them as a motivation to create some new possibilities.
What is Vulkan preparing, could you let us know what to expect in the new period?
Right after end of Bitef, the peak of our annual production begins. We have many new editions for this year's Book Fair, we are planning about forty new titles in all editions. I shall allow myself to be subjective and use this opportunity to single out a project I am particularly proud of. Namely, besides my duties in the publishing sector, I am also privileged to edit our major editions, so I would like to draw the readers' attention to the new and revised edition of The History of the Serbs, which we are preparing for the fair. For the first time, Ćorović's comprehensive overview of the period from the Serb's arrival to the Balkans until the Second World War, is continued with the accounts of the tumultuous decades which followed, by one of the most esteemed contemporary historians, Milan St. Protić. In a daring and conscious manner, Protić writes about the years up until 1991, openly analyzing the rise and fall of the Serbian idea in the context of Yugoslav political vortex of the time. I believe that this edition will be extremely interesting for those who love history but also for anyone who wishes to learn more about that period in Serbian history which is still reluctantly approached from historiographic position.
The cooperation between Bitef and Vulkan dates way back. What is it that Vulkan recognized in Bitef and decided for the partnership?
Yes, this cooperation is something nice that has lasted for four years now and I think we could easily call it a tradition. What is interesting, is that Vulkan is more often in the position of the beneficiary, since we are also a cultural institution, and we are very happy that one of our rare opposite positions is this cooperation with Bitef. I believe we recognized each other by our shared values. We may be addressing the audience in a different way but our goals are the same: we are trying to let the knowledge leave the narrow professional circles and become available and useful to the society, we are trying to expand the people's views, to raise awareness and build a critical attitude towards all the imposed values. Last year, Bitef demonstrated the power of culture and the attention art can attract if it is provocative and meaningful at the same time. This year, the festival is again facing great expectations. It is not easy for you because it is always more difficult to repeat a success than to achieve it. But we have no doubt that you will again manage to be even more revolutionary.
What does the cooperation with Bitef mean to you personally?
For me, this is an enormous pleasure for several reasons. As I have already mentioned, we feel very close to Bitef in terms of business and we are always happy to promote our vision. Apart from that, I am very passionate about theatre and I feel great respect for it. Bitef manages to lift theatre onto a higher level: it provokes, upsets, and exults us. Every year, it reveals a new way to understand art, it mixes it with other art forms, and assigns a new meaning to the term interdisciplinary. And last but not the least, a unique link between us is Miloš Latinović, our author and your director. He might be the best symbol of our connection. It is our great pleasure that his books have found their home in our production, and we hope to justify his trust in the future, just like Bitef not only meets but exceeds all our expectations.
Which Bitef performance will you not miss this year and why?
It is very difficult to single something out since you have thought the festival through as a whole. This year's slogan, "World without Us" puts us in front on an eternal art philosophy: is an artwork worth without the audience? We can return to Eco who said, I have often wondered: would I keep on writing if I was told that tomorrow a cosmic catastrophe would destroy the entire world, so no one will be able to read what I write today? Bitef takes a step forward in that direction and I think that the performances from this year's selection will makes us wonder if only an artwork, in theatre in particular, can be performed without people. It will be interesting to see how these topics are approached in different cultures, so I will definitely see PA'AM, by an Israeli artist, Swiss performance Nachlass, pièces sans personnes. Eternal Russia also sounds interesting and I expect an intellectually provocative atmosphere which makes the audience think about social reality. This year's installations might not always be pleasant but that is exactly why they will accomplish the main aim of theatre: not to lull us but to upset us into motion.