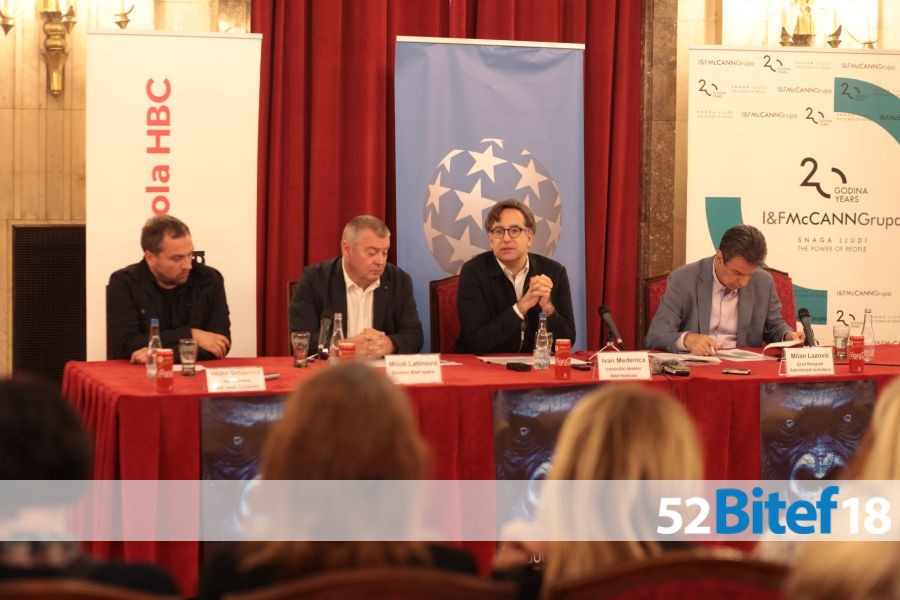 52nd Bitef under the title World Without Us will take place from 13th to 22nd September, as was announced today at the first central press conference regarding that occasion.
The festival's main programme, the visual identity, as well as this year's sponsors and friends of the festival were introduced at the conference. Speakers at the conference were Miloš Latinović, the director of Bitef Theatre, Ivan Medenica, Bitef Festival's art director, Milan Lazović, subsecretary for culture of the city of Belgrade and Veljko Golubović, executive creative director of the New Moment New Ideas Company agency.
As was announced, this year's selection as well continues the festival's mission to clearly map those artistic occurrences in modern theatre and performing arts that are (still) radical, subversive and polemical, while also bravely pointing out the adequate, turbulent and upsetting social phenomena of the modern world.
This year Bitef audiance will be able to see performances from Slovenia, France, Serbia, Germany, Croatia, Estonia, Switzerland, Israel and Belgium. All performances are united in Bitef's tendency to upset us, artistically and politically, to entice us to think, feel and act.
The 52nd Bitef Festival will be solemnly opened with a music performance under the name Suite N°3 'Europe' by French director Joris Lacoste, who was a most pleasant surprise of the 50th Bitef Festival with his Suite N°2 performance that won the Jury's special prize award and the Audience award. The authors who are a part of the 52nd Bitef selection are: Dragan Živadinov, one of the most important figures of the 80s Slovenian artistic scene, with performance Odilo. Obscuration. Oratorio.; playwright and performer Maja Pelević, whose project by the name of Bollywood is an innovative form of "political theatre" that is different from what we're used to in the last number of years in Serbia; Oliver Frljić, who will arrive at Bitef with two performances: Six Characters in Search of an Author and Gorki - Alternative for Germany?. Also included in the selection of the Main programme is Theatre NO99, an internationally acknowledged troupe from Estonia arriving with a performance called NO43 Filth; an esteemed Russian and European theatre critic, Marina Davydova, with an installation Eternal Russia; afterwards — Pa'am, behind which stands a young, multimedia artist Nadav Barnea, a musician and lighting designer, already well famous in Israel; a well- known director Stefan Kaegi who will arrive at Bitef with an installation called Nachlass, piece sans personnes. A well reputed Belgian choreographer Alain Platel will present to the public his Requiem for L., a grand music spectacle that will close this year's 52nd Bitef Festival.
The visual identity of this year's festival is presented with a gorilla whose stare warns us, in accordance with the slogan World Without Us. Visual identity images that the man can't find himself in his own reflection because 'real human being' has disappeared, or our reflection is in fact a reflection of a gorilla because the 'real human being' has vanished. At the contest for the visual solution 28 applications have arrived from Serbia, Slovenia and Macedonia, while the author of the winning artwork is Bojana Rajčić from the New Moment New Ideas Company agency.