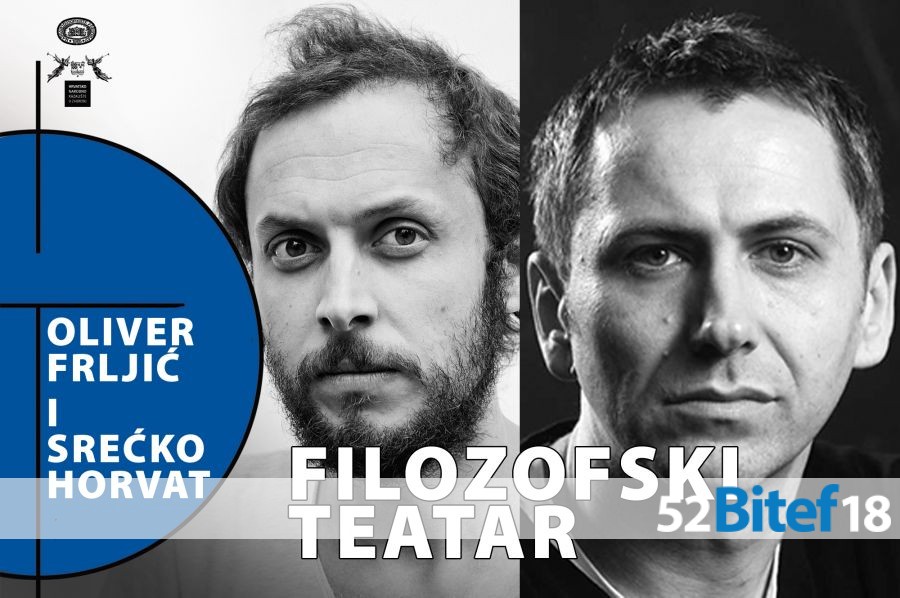 "Philosophical Theatre" is a project launched in 2014 in Croatian National Theatre in Zagreb, and has been carried out in the National Theatre in Belgrade for three years now. The underlying idea was to reestablish close relationship between philosophy and theatre. As the project initiator, Srećko Horvat, states it, "the link between philosophy and theatre has always been stronger than the link between philosophy and any other media. The most famous and the most influential works by Jean-Paul Sartre are, indisputably, his plays, just as Bertolt Brecht started deliberating the radical policy through theatre and thus building his epic theatre." Theatre has always been a place where society and social processes have been actively scrutinized, and the "Philosophical Theatre" opens a space for public discussion, and what is more, in the National Theatre, which is in this moment more than necessary. In that respect, Horvat notes: "If after leaving theatre we are not changed, then what purpose does it serve? And why even go to theatre unless we expect something to happen to us, unless we expect to feel something, to change our mind, to see ourselves and meet others." Theatre thus becomes a meeting point for various social structures invited to listen to lectures by renowned contemporary philosophers, sociologists, psychoanalysts, economists, literary authors, who in various ways approach contemporary moment and suggest and consider social reforms. The audience are not treated as silent observers but as active participants in the open discussions encouraged after each lecture.
Until now, the "Philosophical Theatre" has hosted Italian philosopher Franco "Bifo" Berardi, British writer Tariq Ali, Croatian philosopher Boris Buden, Benedictine nun Teresa Forcades, Hungarian philosopher G. M. Tamás and, via video link, the founder of WikiLeaks, Julian Assange.
This will be the first edition of "Philosophical Theatre" which focuses on theatre, and director Oliver Frljić, and philosopher and activist Srećko Horvat will discuss the relationship between theatre and the current social and political reality.
SREĆKO HORVAT is a philosopher from Croatia but without permanent address and residence. He has published more than ten books which have been translated into more than 15 languages. His recent books are Subversion! (Zero Books, 2017); The Radicality of Love (Polity, 2015); Welcome to the Desert of Post-Socialism: Radical Politics after Yugoslavia (with Igor Štiks, Verso, 2015); What Does Europe Want? (with Slavoj Žižek, Columbia University Press, 2014). He is a regular contributor to The Guardian and Der Spiegel, makes statements for Al Jazeera and other world media. He was a co-founder of Subversive festival in Croatia (2008-2013), and is currently coordinating and moderating "Philosopical Theatre" at HNK (since 2014). Together with the former finance minister of Greece, Yanis Varoufakis, he is an active member in the Democracy in Europe (DiEM25) movement.
OLIVER FRLJIĆ was born in 1976 in Bosnia-Herzegovina. He studied Philosophy, Religious Studies and Directing in Croatia and works as a director, author, actor and theorist around Europe. His productions have garnered him several awards and invitations to international festivals, including the Wiener Festwochen for his 2010 production Mrzim istinu! (Ich hasse die Wahrheit!), and the Heidelberger Stückemarkt new play festival for Black Box Schule, developed at Schauspielhaus Düsseldorf. From 2014-2016 he served as the artistic director of the Croatian National Theatre in Rijeka. In early 2016 he announced that he was resigning out of protest against Croatian cultural policy. Oliver Frljić is part of a Szenen-Wechsel project (Change of Scene, a Robert Bosch Foundation programme) with the HAU Hebbel am Ufer. In June 2017 Frljić came to the Maxim Gorki Theatre with his production Der Fluch - Klątwa - The Curse, based on Stanisław Wyspiański, as a guest performance. The production's premiere at Teatr Powszechny ignited a political scandal and attracted attention on an international level. In 2018 Frljić worked together with the Gorki's ensemble for the first time. With Gorki - Alternative für Deutschland? Frljić follows the logic of politics to question the theatre and rethink the democratic system.