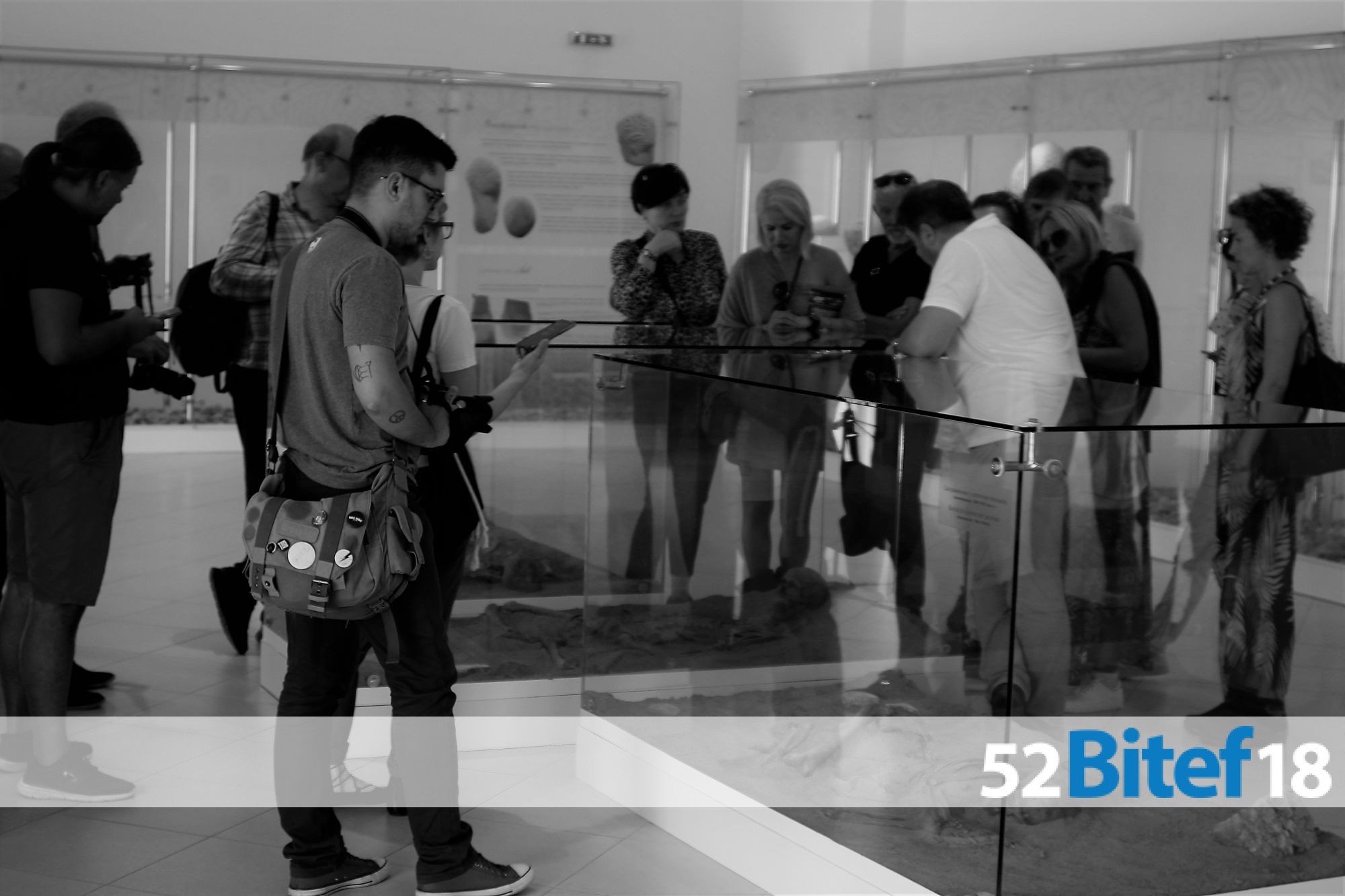 The traditional Bitef press caravan has this time visited the east of Serbia.
The area was chosen in accordance with this year's slogan "The World without Us" which tackles the problem of the world without true, honest people, the world on the verge of apocalypse, the world of a disturbed spiritual balance in the neoliberal capitalism.
The trip "to the beginning of the world", to the beginning of our civilization, the visit to the archaeological site Lepenski Vir, has opened the possibility of finding some new spirituality at its very source.
Nowadays, when our souls are devastated by market technologies, Bitef is trying to find the key, the answer, the consolation for the modern man. Theatre, with its ritual essence and its constant search for a new age catharsis, finds its inspiration in the base, in the primal historicism. At the site which remembers the "time when the spirit was young", we tried to find the matrix of a new beginning, a new humanity, a new humanness.
Grape harvest in Rogljevo resembles ancient Dionysian festivities. The spirit of Dionisius, the spirit of wine, of merriment, of song and laughter, have introduced us into the primal mirth of existence. The tradition of beauty, drunkenness, and childlike joy, and the hospitality of the people, have made us feel the pure passion of creation. With the sounds of children choirs, traditional song and dance, the best homemade wines we drank at the dinner at Jovanović family estate, made us experience an unforgettable ancient joy - forgotten, thwarted and suppressed in the modern world.
Afterwards, the road led us to Negotin and Zaječar, all the way to Gamzigrad and the most important archeological locality in Europe - the Felix Romuliana palace.
In Negotin, we visited the Museum of Krajina, Todorčetov konak - the museum of Hajduk-Veljko and the birth house of Stevan Mokranjac, our renowned composer, who dedicated significant part of his art to the national spiritual music. Led by the idea of the national, the idea of epic, mythical and traditional Balkan heritage, we were in a direct dialogue with the essence of our artistic being - our inherited and built, but also damaged identity. Refreshed, rejuvenated, with our mystic sources renewed, we have resumed the theatre dialogue between the contemporary and the ancient, creating a more precise idea of the modern man's logic of existence.