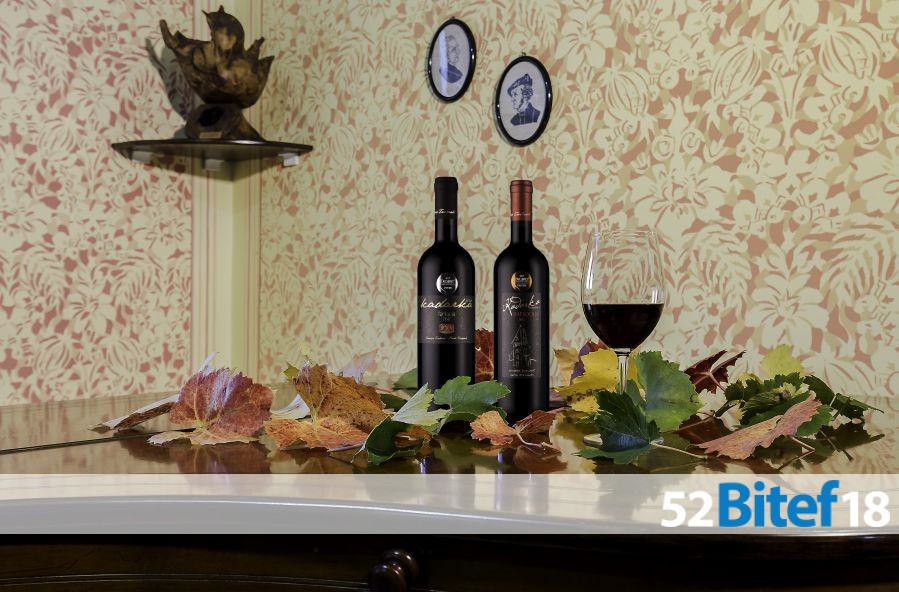 Your wines Fantazija (Phantasy), Rapsodija (Rhapsody), and Rosé, represent an homage to composer Franz Liszt, his talent, his spirit, and the deep connection between him and Bačka region. What made you dedicate the wines to him?
Franz Liszt used to be a great admirer of wines made of Kadarka grape which were considered noble wines and which, owing mostly to him, were served in palaces throughout Europe. We think that it is him who is meritorious of keeping Kadarka in Hungary. Therefore, that is one of the reasons we named our wines after his compositions.
Your winery insists on manual production. Why is it so important in wine production?
That is more expensive, but human factor makes it possible to choose the best material for wine, to closely follow all the processes, and to be sure that the product will be of highest quality.
Winery "Tonković" is in the vineyards of Bačka and is specific by having only one sort of grapes on its 8,5 hectares - indigenous Kadarka, which was brought here towards the end of 17th century from Skadar, in the great migration under the Serbian Patriarch Arsenije III Čarnojević. Tell us more about that sort of grapes and why it is your choice.
In 1690, in the Great Migrations, Kadarka was brought along. For a while, it was grown in Negotin, in Šumadija, and on Fruška Gora, but it did not stay anywhere for long. On its way towards the north, it ended up in Hungary, where they are still producing wine of Kadarka since they have the necessary sandy soil. In 2008, the founder of "Tonković" winery, Ignacije Tonković, decided to start vineyards with the idea to make something indigenous for this area, and Kadarka definitely is that. However, the professionals advised against it, since it is very sensitive to humidity, it has very thin skin, it is rather unknown in Serbia. Still, the determination to place the wine made of Kadarka on Serbian market was conclusive, and we planted it.
In 2012, your wine Fantazija, won silver medal in London, the greatest world wine competition "Decanter", with 91 points. In 2017, Rapsodija won bronze medal at the same competition. Tell us more about the awards and what they mean for your winery.
Since "Decanter" is the biggest world wine competition, the awards mean a lot. What means even more to us, is the continuity in winning them. Every year, at least one wine wins at least silver medal, which is an excellent result for Serbia, because wine scene is still developing in our country. This year, Rapsodija won silver with 90 points.
Wine tourism is more than mere wine tours. What does it represent for you, and how does it contribute to Serbian economy potential?
Wine tourism is still in its infancy. Through combined efforts of wine makers and local governments it is developing nicely, and more and more people decide to spend weekends doing wine tours. For example, on Palić, apart from our winery, there are 7-8 other wineries on offer. If we add the beautiful Palić lake to that offer, it is clear that our economy can generate nice profit from wine tourism.
On the feast day of Saint Urban, your wine is sent to the Pope. How did that tradition start, how did your wine reach the Pope?
Here we return to Franz Liszt. Apart from the numerous palaces, he also drank Kadarka in Vatican, together with his friends Pope Pius IX. Ignacije Tonković used that fact to get in touch with the bishop of Bačka and to use his contacts to return the tradition of consuming wine of Kadarka in Vatican. In 2009, he succeeded. Wine was consecrated, sent to Vatican and since then, our wines are drunk there every year on St. Urban's Day, 28th May.
How would your imaginary world finest wine taste?
I wouldn't like to be misunderstood, but our Fantazija is completely to my taste. Light red wine, elegant and soft, but still complex and refined, combining the character of red fruit with spices, tender tannins and playful freshness. It stays in barrels for a year, and comes out to the market only when it is fully ready. So, besides the smell of cherry, sour cherry, cranberry and plum, you can find the smells of dark chocolate and vanilla in it, too.
Why is wine art in bottle?
Every year is different, the weather is different, seasons can never be the same. That is a hard work, and a very stressful one, to depend on the weather you cannot influence, to look up towards the skies every morning, hoping there would be enough sun, not too much or too little. But at the same time, that is the beauty of the job. It enters your blood, somehow, and all the expectations and hope constitute the passion which moves all the wine-makers.
Why did you decide to support Bitef?
Tradition, in the first place. When a festival has such a long continuity of quality, you want to be a part of it. Also, our winery holds culture in highest regard, so the two reasons were quite enough to establish cooperation with Bitef.